"Love Belongs Right Here" - Mary Hopkin
One of the first artists the Beatles signed when they launched Apple Records in 1968 was a young Welsh singer named
Mary Hopkin
.
The first commercial single the label released,
Apple #2, was Hopkin's "Those Were The Days." Produced by Paul McCartney, the record became a huge international hit and made Hopkin a star.
Hopkin's next single was a McCartney original,
"
Goodbye
," a #2 hit in the UK and #13 in the U.S. Prime Paul, its catchy melody is a perfect match for Hopkin's lilting vocals.
(Apple single #1, by the way, was a private pressing of Frank Sinatra (!) singing a revised "The Lady is a Tramp" for Ringo's wife, Maureen.)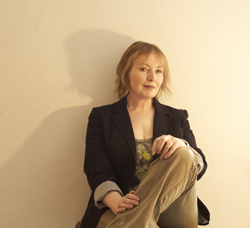 Credit: Morgan Visconti
Mary Hopkin has been involved in various music and theatrical projects in the years since, from the
Blade Runner
soundtrack to the theme song for a Billy Connolly TV series, working with myriad artists from David Bowie to Dolly Parton to the Chieftains.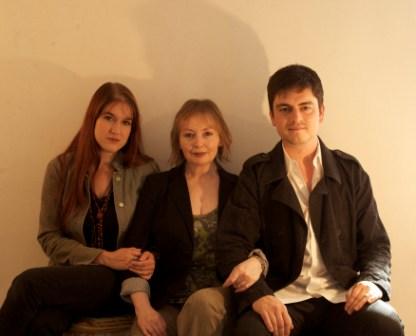 Credit: Morgan Visconit
Hopkin's children,
Jessica Lee Morgan
and
Morgan Visconti
, share her musical talents and she has collaborated with both.
My impression, right or wrong, is that she has never seemed commercially motivated, that she is driven instead by a love of singing. Hopkin doesn't do much press or perform publicly often, but she's no recluse - she tweets regularly (
@themaryhopkin
) and has a nice website (
www.maryhopkin.com
). And she continues to grace us with new recordings.
Her most recent album,
"Painting by Numbers," concludes with a powerful yet intimate song, "Love Belongs Right Here." You can listen to it
here
and you can buy the album here.
I sent Hopkin seven questions about LBRH. She quite kindly responds:
1 - You wrote LBRH with your longtime guitarist Brian Willoughby for a solo album he released in 1998. What was that process like?
Mary Hopkin:
Brian had already written a lovely 8-bar melody on guitar, which we used for the verses. Once we'd worked out the chords for the rest of the song, I wrote the remaining melody and lyrics.
2 - The only instruments on the track are two guitars, one electric and one acoustic. Is that Brian and/or you?
MH:
I wish! Brian played all the guitar parts - beautifully. I just played the keyboard pad.
3 - On LBRH (as well as the rest of "Painting by Numbers") your voice is as beautiful and distinctive as it was when you signed with Apple records in 1968. What's your secret?
MH:
Thank you - it must be neglect! I prefer my voice now, though - my range has improved and it seems to reflect more of what I'm feeling.
4 - Have you ever tried singing LBRH in Welsh?
MH:
No, but there is a translation and it has been sung by the lovely Welsh singer, Heather Jones.
5 - Did you do anything special to get in the right mood to record the vocal for LBRH or do you just start singing and the emotion comes easily?
MH:
What are you suggesting? Have you heard the lyrics? :-) No, no foreplay necessary - I'm a professional :-)
6 - Was it easy to keep the arrangement simple or were you ever tempted to add strings, bass, percussion, etc?
MH:
Brian's whole album (Black and White) was beautifully understated - in fact, he didn't use the electric guitar part on his album version. A big arrangement would have affected the intimacy of the song - although we did think of pitching it to Celine Dion :-)
7 - Why did you decide to end the album with LBRH?
MH:
I chose it as the last track because it's the only song that is not a demo, but a finished recording. I also like the way the slow fade leads the listener gently into silence.
*********************************************************************************
I'll leave you with a video of "Gold and Silver," another fine song from the album
: