TWIN CITIES FUNK & SOUL:

Lost Grooves from Minneapolis/St. Paul 1964-1979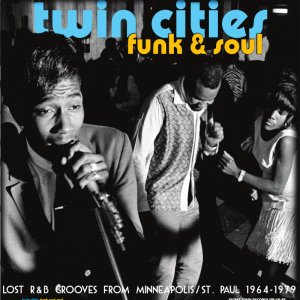 I recently stumbled across this amazing anthology from Minneapolis based record label Secret Stash, somehow having missed its release in 2012. What caught my eye were the tracks from the Prophets of Peace, a band that was based in my south Minneapolis neighborhood.
They were older than me and my friends; when we were just learning how to play our drums and guitars and horns, I was always impressed and intimidated when I could jam with someone whose brother was in that band... or who had played with a Prophet. But I hadn't thought about the band in years.
So this album was a true find. Even better, its grooves (pun intended) contain a wealth of musical history that I didn't know about my hometown in the era BP (Before Prince). The music is excellent and the packaging is even better. Take a look at the fantastic "newspaper" that Secret Stash produced for TCF&S by clicking on the following:
This project was obviously a labor of love, given all the time and work that went into researching and writing the "newspaper," tracking down and clearing various recordings from 40-50 years ago, and putting the whole shebang out on vinyl and CD. The music itself is priceless, but overall music sales continue to shrink as more people prefer to simply stream content - and issuing an anthology of relatively obscure music is not a way to get rich.
TRACKS
1. All Day Long - The Valdons
2. Sock-A-Poo-Poo '69 (Part 1) - Maurice McKinnies & The Champions
3. Work Your Flapper (Part 1) - Jackie Harris & The Champions
4. She's A Whole Lot's A Woman - Mojo And His 'Chi 4'
5. Ridin' High - Dave Brady And The Stars
6. I Ain't Gonna Cheat on You No More - Wee Willie Walker
7. Save Me - Wanda Davis
8. Get Funky, Sweet a Little Bit - Jackie Harris & The Exciters
9. There Goes My Used to Be - Wee Willie Walker
10. Take Care - Wanda Davis
11. Sweet Smell Of Perfume - Maurice McKinnies & The Champions
12. Baby, Baby I Need You - Dave Brady And The Stars
13. Love Me, Leave Me - The Valdons
14. Dipstick - Willie and The Bumblebees
15. Rusty McDusty - Morris Wilson
16. Thieves In The Funkhouse - Band of Thieves
17. You Can Be - Prophets of Peace
18. Saxophone Disco - Morris Wilson
19. Honey From The Bee - Willie and The Bumblebees
20. The Maxx - Prophets of Peace
21. Get Up - The Lewis Connection
So I tip my hat to everyone involved in putting out this album. The rest of Secret Stashes' catalog looks interesting and I'm eager to check it all out. In the meantime,
Secret Stash's Eric Foss, the man behind TCF&S, has some answer for my seven questions:
1 - What was the inspiration or catalyst for producing TCF&S - and did the concept evolve between the initial idea and the final product?
Eric Foss:
The idea started when we got hipped to a record by a band called the Lewis Connection (though it's misspelled on the album jacket). We met with the band leader and he gave me a copy of the record. He wanted to a deal for the record, but part of what makes that record so
collectible

is also what makes it tough to deal with. Prince plays guitar on a couple tracks. It's really what would sell the record. But The Purple One is well-known around these parts for being one of the most litigious people you could ever come across.
I think that is what honestly first started the conversation about a compilation. Even still, it took us at least 6 months before we knew what the goal for a finished project was.
The Lewis Connection - "Get Up"
2 - Were there any tracks you really wanted to use but were unable to find or couldn't clear the rights for, etc?
EF:
Yes, they will remain nameless at this point because A) we may end up licensing them for something else, and B) some of that left a few people feeling very disappointed.
I remember one track in particular was a real letdown for us. The guys in the band wanted a shit ton of money for the license. I had to tell them we

couldn't
do it. Then they called me like a day after we approved the test pressings and said they'd go with my original offer (which was like a tiny fraction of what they said they wanted). It was a real bummer.

3 - You had an album release party in September, 2012, featuring performances from a number of the musicians from TCF&S. What was that like?
EF:
Life-changing. Basically that show was supposed to be a onetime thing, but I was getting non-stop offers to bring the show to different festivals and events around the Twin Cities. The problem was, I knew it had a short shelf life. A very short shelf life. We (I say we because I wound up drumming for most of that stuff)

weren't

writing and recording new material, and frankly didn't have the ability to that well if we wanted.
I saw very serious excitement for what we were doing, but saw that within a year, no one would really care anymore. How many times can you put on the same show in the same town?
Anyhow, I say it was life-changing, because after identifying the limitations of what we were doing, I started a new band with one of the singers called Sonny Knight & The Lakers. For years I swore I wouldn't work "new" records at Secret Stash. But now here I am just weeks away from the debut of the first Sonny Knight & The Lakers LP.
4 - Secret Stash released TCF&S on collectible vinyl and CD, but why is it not available to buy as a download?
5 - What about this project did you find most gratifying?
EF:
Getting know and play with the artists.
Prophets of Peace - "You Can Be"
6 - What was the most challenging aspect of producing TCF&S?
EF:
Woof…. Clearing the rights and organizing the live events. Also, I wound up laying out that newspaper that's tucked inside the LP myself. I had literally never used Indesign a day in my life when I decided to do that. That shit sucked. Will (GM at SSR) and I had about 7-10 days of very little sleep leading up the deadlines for print materials.
7 - For anyone who loves this anthology, what would you recommend be the next album they listen to from the Secret Stash catalog?
EF:
Hands down, it's the new Sonny Knight And The Lakers album. This band got started by covering material off the TCFS comp. It's really where the roots of our sound lies.
http://sonnyknight.com/